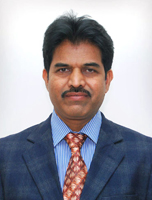 Dr.N Yadaiah
B.E (OUCE), M.Tech. (IIT KGP), Ph.D.
Professor of EEE & Registrar, JNTUH
N. Yadaiah received B.E. in Electrical Engineering from College of Engineering, Osmania University, Hyderabad, in 1988, M. Tech. in Control systems from Indian Institute of Technology (IIT) Kharagpur, in 1991 and Ph.D. in Electrical Engineering from Jawaharlal Nehru Technological University, Hyderabad, India in 2000. He is recipient of Meritorious State Teacher Award by the Government of Telangana in the year 2015, received Engineer of Year Award - 2014 of Institution of Engineers of India by Andhra Pradesh Chapter, Outstanding Reviewer Award of 2014 by Elsevier Publisher USA, awarded Young Scientist Fellowship (YSF) of Andhra Pradesh State Council for Science and Technology, in 1999. Currently he is Professor of Electrical & Electronics Engineering and Registrar JNTUH, Hyderabad. He was held various administrative positions: Principal of JNTUH College of Engineering (Autonomous) during 28th March, 2014 to 21st July, 2015 ,    

Vice-Principal of JNTUH College of Engineering during April 2013 to March 2014, Head of EEE at JNTUH College of Engineering during September 2010 to September 2012 and also headed the EEE department at JNTU Anantapur College of Engineering during August 2008 to January 2010. Recently one project is awarded by DST of worth 51.6 lakhs and completed two research projects: (i) as a Principal Investigator, of worth 18.3 lakhs Design Robust observer based Intelligent A.C drive of AICTE and (ii) as Co-Investigator of ISRO in collaboration with University of Hyderabad. He has guided seven Ph.D. Scholars and 70 M.Tech projects 

He has 123 research publications in International/ National journals/conferences to his credit. He has chaired many sessions in International/National Conferences and delivered more than 40 guest Lectures/key note addresses. He is involved in various committees as a part of administration.

He has visited as visiting Professor to the Department of Electrical & Computer Engineering, University of Alberta, Canada towards collaborative research during May - Agust, 2007. Also he has visited USA , Malaysia , Thailand, Sweden, France and  Itali as part of academic work and  to present research papers in IEEE and other international Conferences. 

He is Fellow of Institution Engineers (India), Fellow of Institution of Electronics and Telecommunications Engineers, Senior Member of IEEE, Life Member of Systems Society of India and Life Member of ISTE. He is editorial board member to Journal of Computer Science (India). He has guided Five Ph.D students and eight scholars are under progress.

 
Profile :

Dr.Yadaiah N
Professor of EEE & Registrar, JNTUH
Electrical & Electronics Engineering
Official Email: yadaiahn@jntuh.ac.in